Projects
CineSession
Sep 1 2017 - Dec 31 2018
Cinémas Gaumont Pathé, Paris
Every Week, EclairGame organizes a competitive rendez-vous for Esport fans in a movie theater. Their setup is optimized to provide the best experience to gamers in a cinema. Big screen, popcorn, gaming set-up everywhere and a skilled tournament, here is the recipe of the CineSessions.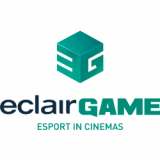 Involvement
Gozulting is:
• Producing the captation.
• Broadcasting the eventd.
• Creating the assets for each cinesession.
Setup
Our Set-up is the minimal option to have a Broadcasting set-up, we created a set-up which can be moved to any cinema.
Our Set-up is composed by : 3 PTZ camera, Broadcasting PC, Sound Tab and Light Panel.

The smallest & efficient set-up possible.