Projects
The International 2017 French cast
August 1-12 2017
Rennes, France
Every year, Valve organizes the biggest tournament on Dota 2, The International.
The 2017 edition was casted live from Rennes exclusively in French. For two weeks we created a show around the biggest esport tournament at that time: opening with a preshow, an analyst desk was hosted giving the previous days or tournaments context. Then every single tournament game was casted and followed by an in-depth analysis by the finest French Dota scene experts.
A total of 24 persons was involved on that project including casters from the O'Gaming crew, hosting a beginner-oriented cast.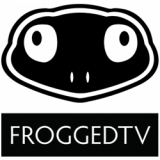 FroggedTV
Frogged TV is a French web TV founded in 2011 and specialized on Dota2.
Involvement
On the French cast of TI8, Gozulting:
• Signed deals with sponsors Red Bull France and Canal+ as a media partner.
• Provided all the necessary equipment for the video production.
Setup
The solution was a complete broadcast setup for a broadcast streamed on Twitch with a dedicated director.
FS5 Cameras, audio setup with broadcast headphones for commentators as well as stage microphones for analysts and guests.
Partners