Projects
Puma Music Tour
April 24 2020
Paris, France
Sanitary crisis isn't a stop to creative minds. To promote French rapper Alonzo latest album, Puma decided to create a happening in GTA V making Alonzo the first ever artist to play live from Los Santos.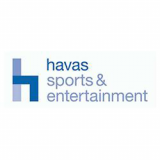 Havas Sports & Entertainment
Havas Sports & Entertainment is Havas Group's "Brand Engagement" global network.
Involvement
Gozulting was contracted to create all the assets for the concert as well as overseeing the broadcast on Twitch.